How to find us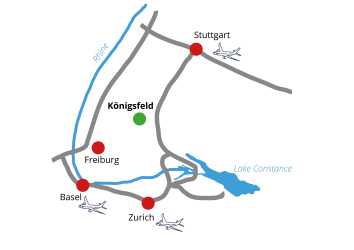 As the largest protestant boarding school in the federal state of Baden-Württemberg, the Zinzendorf Schools not only offer a unique variety of educational pathways, but additionally Koenigsfeld in the Black Forest provides for an exceptional location.
The climatic spa Koenigsfeld im Schwarzwald (in the Black Forest) features space for personal development and learning within its undamaged nature. Der heilklimatische Kurort Königsfeld im Schwarzwald bietet mit seiner intakten Natur den idealen Raum zur Entfaltung der Persönlichkeit und zum Lernen.
Königsfeld's infrastructure lacks nothing: there is an active Club life as well as a proximity to the cities of Villingen-Schwenningen, Rottweil and Sankt Georgen that offer an abundant range of leisure activities.
Königsfeld is conveniently situated close to the Autobahn.
The closest Airports Zurich and Basel in Switzerland as well as Stuttgart, Germany are within one to two hours driving distance.
---
Address
Zinzendorfschulen
Mönchweilerstraße 5
78126 Königsfeld im Schwarzwald
+49 (0) 77 25 - 93 81 60
info_at_zinzendorfschulen.de
(For data protection purposes, we do not use Google Maps. If you would still like to access our location in Google Maps, please follow this Google Maps-Link.)
---
By car:
Via the Motorway (Autobahn) A5 – in direction of Karlsruhe (coming from Basel Airport):
Take exit 55 Offenburg. Follow the B33 towards Villingen-Schwenningen.
Take the B 33 (direction St.Georgen).
Approx. 5 km after St.Georgen turn left, direction Königsfeld.
At the roundabout take the thirds exit to Königsfeld.
Follow road for 300m (after EDEKA supermarket), then turn right into the parking lot of Zinzendorf Schools.
Via the Motorway (Autobahn) A81 – in direction of "Singen" (coming from Stuttgart Airport):
Take exit #34 Rottweil.
Follow signs towards Königsfeld (via several villages).
Take first exit at roundabout (into Königsfeld).
In 300 metres (after EDEKA supermarket) take a right onto the parking lot of Zinzendorf Schools.
Via Offenburg (coming from Basel).To St. Georgen (Schwarzwald).Change to the bus to Königsfeld (Busbahnhof).Or take a Taxi (ca. 10 Km)

Via Stuttgart / Rottweil or coming from Lake Constance. Final train stop is Villingen im Schwarzwald.Change to bus or take a Taxi (10 Km) to Königsfeld (Busbahnhof).

.
Contact: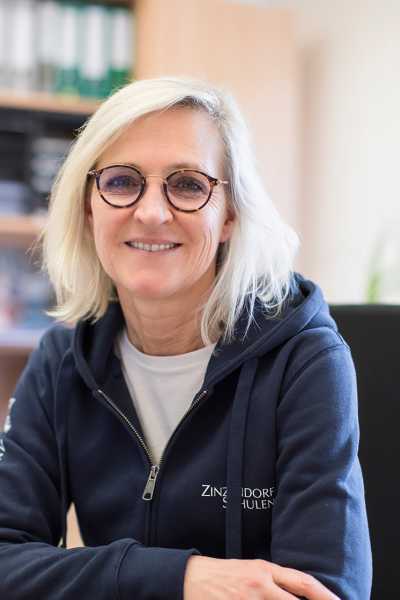 Sabine Milbradt
Secretary high school graduation
+49 (0)7725 / 9381-60